Investing in medicine
Aescap Life Sciences is a biotech fund that invests in publicly traded biotech companies. It invests in high-growth, highly innovative companies that develop and market new medicines and, to a lesser extent, diagnostics and/or medical devices. The fund operates under a full AIFM license and is managed by an experienced team with a great track record. Read more about the impact the fund has on the daily lives of millions of people and how it delivers good financial returns.
Performance
*Since inception 28-03-2016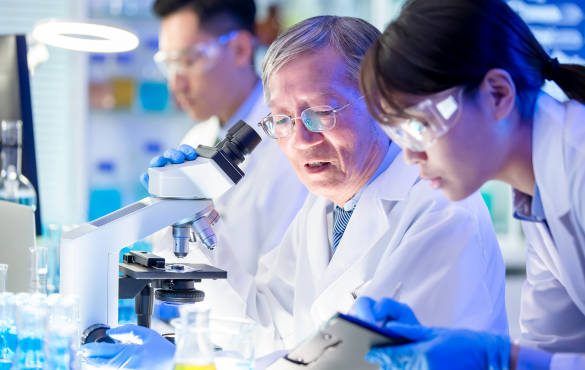 Biotech market
The biotech sector, also known as the life sciences sector, is a large and fast growing sector driven on the one hand by a globally aging population and the need for western medicine in emerging markets. On the other hand, the biotech sector is driven by innovation which has taken big leaps in recent years in areas such as RNA, gene and cell therapies. With more than 800 public biotech companies it requires quite some expertise to navigate the investment landscape and find derisked companies with a high earning power that are still undervalued.

Get acquainted
Our monthly presentation for existing and interested investors is currently replaced by a webcast. The next webcast will be held on December 21st at 15.00 cet.
Meet the investment team
The Aescap investment team, led by Portfolio Manager Patrick Krol, consists of experienced professionals with different backgrounds playing an essential role in the performance of the fund. With 5 full-time dedicated persons, the Aescap investment team creates a portfolio of successful biotech companies that not only provide a good financial return but contribute to improving the well-being of patients through their groundbreaking medicine.
Impact
Our biotech companies all address medical needs that are not met by products available today. We believe that Aescap's investments have a substantial positive impact on society represented by the many people that find a better medical treatment through products developed by the companies we have helped to grow.
Newsletter
Want to stay up to date?
Subscribe to our newsletter here.
Investment strategy
Next-generation medicine
Outstanding management
High growth companies
Diversification within our focus
Undervalued companies
Buy and sell discipline
Portfolio company Dicerna Pharmaceuticals announced that it has entered into a definitive agreement with pharma company Novo Nordisk under which Novo Nordisk will acquire Dicerna for $ 38,25 per share and a total equity value of $ 3,3 billion, representing an 80% premium compared to Dicerna's share price at closing on Nov 17, 2021.
The overall risk awareness in the stock market has driven the average share prices of biotech companies down 5% in Q3. The fund's net performance for Q3 was -5,7%. As a result, the average undervaluation of our portfolio is now over 100% compared to our price targets.
At the beginning of the 20th century, the only two options doctors had available to treat cancer were surgery and/or radiation therapy. At that time, cancers that couldn't be removed or irradiated, because of their position or because they involved blood cells, were deemed untreatable.
Home