Investing in Transformative Biotech Companies
The Aescap funds invest in publicly traded biotech / life sciences companies. They invest in high-growth, innovative companies that develop and market new medicines and in some cases diagnostics and medical devices. The funds comply with the Dutch Authority Financial Markets (AFM) and are managed by a broad and experienced team with a great track record that put their money where their mouth is. Aescap aims to generate preferred financial returns and in parallel has already improved the quality of live of millions of people. The name Aescap is derived from 'Aesculapius', the Roman god of Medicine, and 'Capital'.
Net Performance
Per September 30, 2022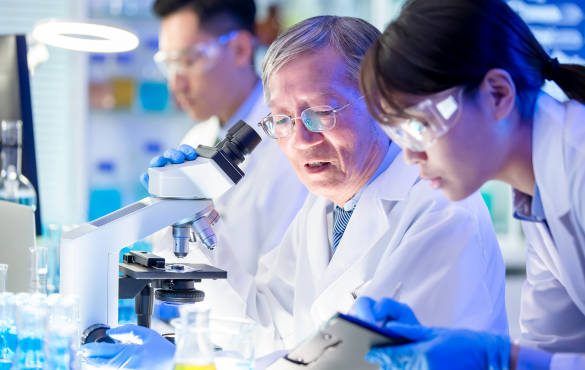 Impact
The companies in the portfolios of the Aescap biotech funds address medical needs that are not met by products available today.
We believe everybody has the right to receive the best medical care available. Aescap's investments have a substantial positive impact on society and have already resulted in an improvement of the quality of live of millions of people worldwide.
Update via Webcast
Our presentation for existing and interested investors is currently replaced by a webcast. The next webcast date and time will be shared on this page soon.
Meet the Investment Team
The Aescap investment team, led by portfolio manager Patrick Krol, consists of experienced professionals with different backgrounds in the health care industry. Aescap aims to providing a good financial return to their investors, and in parallel contribute to improving the well-being of millions of people. The team invests in the Aescap funds themselves with over 25 million euro.
Biotech Market
The biotech sector, also known as the life sciences sector, is a large and fast-growing sector, driven by an aging population and a high pace of innovation. New medicines like RNA, gene and cell therapies will replace the vast majority of medicine over the coming decades. With around 1000 public biotech companies in the EU and US, it requires sector specific expertise to find de-risked companies with a high earning power that are still undervalued.
Subscribe to our Newsletter here.
Investment Strategy
Next-generation medicine
Outstanding management
High-growth companies
Diversification within our focus
Undervalued companies
Buy and Sell discipline
Solid performance across portfolio. Due to a strong net performance of +13,2% since we published our NAV of mid June, the net performance of the fund for June ended at +8,8%.
Strong clinical study data delivered across the portfolio. Genetics technologies are increasingly being used in the development of innovative medicines. While in the beginning R&D in genetics companies was focused on (inborn) genetic diseases using cell, gene or RNA therapy, these technologies are now exploited in a much broader manner.
At the time of writing, Aescap Genetics has invested 71% of its assets under management in 18 companies.
Home